What our customers say (even the negative stuff)!!
A big smile on his face
I wanted to let you know how much Nat enjoyed the mini red tennis tournament today at RSF tennis club. Although he has not been playing long and still learning the new skills needed for the sport he had a great morning and came away with a big smile on his face!
The coaches – Helen, Selena & Sam were  great at encouraging the young players and the tournament was very relaxed and lots of fun. Nat learned a lot about the rules of the game and match etiquette which I am sure will be very useful in the future. Liz Spencer, Cold Ash
Would urge all to give it a go!
Matilda, Stefan and Danilo had lots of fun and they have improved during the camp week. They were on the high each day and have been encouraged to learn and play this beautiful sport. In the same time, the fine balance was established between learning and having fun. I was particularly impressed with structure and required disciplinethat Sam managed to achieve having so many children on the courts. Definitely worth while and money and would urge all the parents to give it a go! Vanya Mutavdzic, Kingwood 
Getting a lot out of them
Cameron very much enjoying his sessions with Selena, and getting a lot out of them. Tracey Bull, Reading
Great confidence in the coaches
It was the first time for Zara to come to camp and she was very nervous, she had the best time and watching the coaches with her gave me great confidence in them, Sam and his gang are always great giving the children great encouragement and excellent technical training. My two loved coming. There did seem alot of kids there but im sure there were plenty of coaches to cover the adult/child ratio. Zara would now like to give tennis a go its just finding the time now. Lisa Reynolds, Caversham 
We never worry
Tennis club is great, we never worry about Euan being really well looked after. He learns new skills each time he comes and relishes the structure and action focus that Sam and his team place on the kids regardless of age and ability. This Easter Euan was rather smitten by Becky (first crush!) and Cameron ( a great high fiver!) Well done Sam, how you control up to 40 kids is beyond us but you do it so well!! Abi Bracken, Peppard Common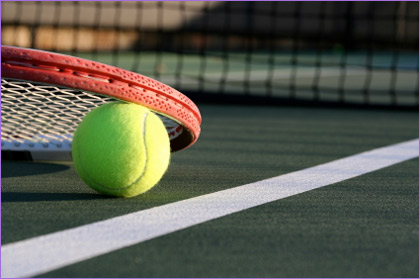 We cant really find any faults
Lucy had a fab time as always, it was of course helped by the lovely weather, but more so for the fun and enthusiasm of Sam and his team. Having attended a number of your camps and lessons over the past few years we cant really find any faults at all. Everyone just has fun which is so important, so thank you! Emma Sell, Peppard Common
Suits him better
My son has been having the lessons and as its only down the road from us, I have not really had much involvement as he can walk too and from his lessons. The only thing I can really say is that he has previously had a few lessons with another company and not enjoyed them as he said there was a lot of time spent just listening whereas with these lessons, there is much more time spent actually playing which suits him much better. He also likes the other information about tennis history and players that the teacher adds from time to time. His first term so still quite new to tennis but all good so far! Anne Stopher, Cold Ash 
Despite the volume
Nicola thoroughly enjoyed herself and despite the volume of kids, she had a great time and came away feeling she had learnt something.Diane Lee, Stoke Row 
Great set up
The kids love it – great set up thanks! Penny Lake, Henley on Thames
The only reason it wasnt excellent…
It was very good. I liked the courts there wasn't wind on the courts even though there was some on the day. Had agood referee. I got a nice prize at the end which was very nice. The only reason why it wasn't excellent i think that they should have a higher grade like a grade 4 maybe in the summer holidays. Player, aged 12
He also text
Very good referee – was funny and also gave us extra information on where the club was and how to get there. He also texted when i got home to say that he hoped i enjoyed the tournament and had a good journey home. Player, aged 14
Cant wait to go again
The children had a brilliant time & were so enthusiastic when they got home. They love Selena & can't wait to go again! Nikki Stevens, Reading
Born tennis coach
The coach is a born tennis coach and teacher, he is great with the children and adults whether you are a beginner or have many years of experience. He works you hard in both his individual and group tennis coaching sessions always showing you new tennis techniques that lead to better strokes. When coaching the juniors or the younger children he is professional and has high standards they respect and respond to him in a positive way. And he provided CD of course which can watch on best tv box sets 2016. It leaves me to say a big thank you for all the support you have given to both me and Jonathan. We both look forward to many enjoyable hours of tennis coaching with you. Jenny T, Reading
He judges well
The coach is always enthusiastic and that feeds through to our girls. He is child friendly and adapts well to differing abilities. He judges well when to push the child more or to ease off. The children enjoy the lessons as he makes the lessons fun. He is always on time and is flexible around fitting lessons in. Highly recommended. Nardeep S, Tilehurst
4 year old listening & learning
Selena is a great coach and already has my 4 year old son listening and learning. Faith Ramsey, Swallowfield 
Great outdoor learning
Fantastic coaching for adults and children! From short sessions to longer summer camps-great outdoor learningthat the kids love! Zoe Phillips, Henley on Thames